So look!!!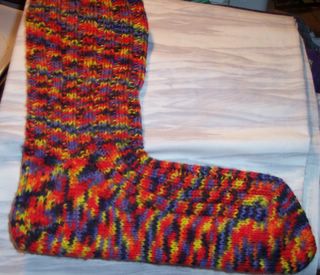 and a close up of the heel and decrease!
Like i was saying before i think doing it on DPN's was way easier for me to understand than doing it on 2 circs. but then again that's just me! Now i've started the 2nd one! yeah
and i also found online a pattern for a crochet poncho that Maddy wanted and i convinced her to let me do it in PINK only so soon i'll be dying some yarn hopefully! LOL
ok so look at this pix... LOL
it totally cracks me up. i was trying for days to get a pix of this.. bella's pooping face. LOL it's sooo cute and funny all in one! I am so getting killed for this when she's a teen! LOL
well i've got some knitting and crochet to do so i'm leaving! bye bye!