Before I start my Sock History for
Socktoberfest. (I know I know I'm a little late) I wanted to
share the scarf I made for my beginning crochet class. The fun fur one, a couple of posts ago, is for my advanced beginners class. I Calll this one the LTC scarf. (learn to crochet) what do you think? I'm pondering if I should enter it into the crochet pattern a day calendar for next year. Any comments are welcomed! Sorry the pix are a little dark. At least they look dark on my computer. I used a hunter green color of caron simply soft
yarn.
I'm also working on a pair of wool socks to be shrunk for slipper for the beady. She likes the purple and I hope that it will work for me. We'll see soon enough. The ones on the needles in the pix are finished I'm working on the second sock/slipper now. Oh and AWESOME news. I got my socks back from my DH's friends house. WHOO HOO now I've just got to get done with what I'm working on now to finish the socks for myself. Ok now on to my
Sock History
1 When did you start making socks?
shortly after learning to knit, about 2 years ago now.
2 Did you teach yourself or were you taught by a friend or relative? Or in a class?
I taught myself, using internet tutes and books

3 What was your first pair?
they were to be a pair for a friend.
4 How have they "held up" over time?
not so good I frogged them b/c they were being made out
of rec yarn. And I started them again with different yarn here's a pix of the cuff of the frogged socks..
5 What would you have done differently?
used different yarn and short row heel. I got stuck on the heel flap. So I switched yarns and to DPNs instead of 2 circs here's a pix of the finished 2nd sock. I understood the heel flap better with DPNs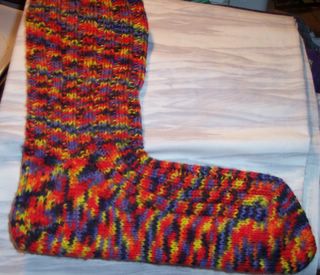 6 What yarns have you particularly enjoyed?
I really really like them all. esp if they're soft and I haven't been able to use a lot of yarn so I won't pick.
7 Do you like to crochet your socks?
I have only tried once and it was for felting a pair it didn't work but I would like to try again for just regular socks.
8 Or knit them on DPNs, 2 circulars, or using the Magic Loop method?
I love to knit on DPNs with magic loop next 2 circs after that but I prefer DPNs all the time! They just seem more fun to me.
9 Which kind of heel do you prefer? (flap? Or short-row?)
I know how to do the heel flap but I don't enjoy it. I LOVE short row heels and toes. Though I did find a new toe that looks like a start that I've been dying to try! On my next pair.
10 How many pairs have you made?
um **blush** under 10. I just have tons of stuff that I'm working on and socks get put aside but I collect sock yarn. I plan on doing more socks now!
so that's my sock history. Not too interesting though. Sorry about that. Anyways I'm off to finish my slipper socks for the beady.
anyways have a wonderful day.