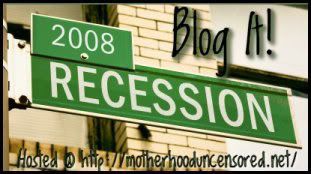 Have you seen it?
Blog the recession
?
Motherhood Uncensored
has started a movement. It's all about us clicking through the RSS reader to the blog, no obligation whatsoever. You don't have to leave a comment just Click around a bit! But she's said it much better and I'm Quoting from her site.
"The premise is simple. If you read blogs, then for the month of August, make the "pledge" to click through from your feed reader. No obligation to leave a hilarious comment or send a long stalkerish email (although both, within reason, are always lovely). Just click through to the blog (not on ads unless you are so led) and if you're feeling generous, click around to their older posts."


Don't take my word for it go check out the
Blog the Recession post over at Motherhood Uncensored
. It's a brilliant idea! Plus there's prizes! so why not join?
Now on this blog you know I do
Pay Per Post
and
Social Spark
and aside from those posts I don't get paid for blogging here. I just love to talk to ya'll (all 4 of you LOL).
But did you know my
other blog MommaCrafter
I get paid for you just visiting? (Go a head help a gal out click on over there!)