To show you that I've not been slacking this week in posting that I've actually been busy here's some pix....LOL first is Maddy bowling.
not only did we go bowling with friends on Monday... maddy also had a bowling birthday party that she went to on Wednesday!
I thought I would share a pix of Bella in a party hat...it was ripped off shortly after the pix was taken but it's soo cute huh? so 2 times we went bowling this week! crazy and I still suck! you're think oh you couldn't be that bad...well my highest score was 91! I kid you not! I totally suck! LOL it was fun though! I think madison got a better score than I did...LOL oh well.
then on tuesday we went swimming in amberg! wow was that fun! here's a pix of the girls and daddy! how cute is bella's swimsuit? didn't think they made them that small huh? well they do! LOL the pools here are the greatest! huge with slides and little hot tubs everywhere! of course there's the traditional lap pool and lesson pool....tons of little different pool all housed in one big building! oh soooo fun!
not only did we have a busy week so did the rest of my family! (as if there wasn't enough cuteness in this post here's more)
My Sister Jessica had a baby girl the other day!!! i'm such a proud aunt! here's a pix of the lovely little Leah!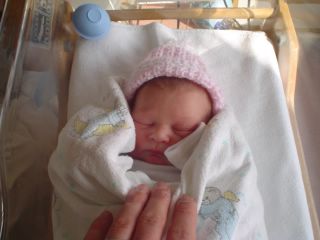 Notice the knitted hat.....Jessica is a knitter too! here is her blog
www.naturallyknitty.blogspot.com
check her out....not that she'll be updating it any time soon! since she's busy with being a new mommy! LOL now for more pix here's Gabe the proud older brother such a cute pix huh? (yes that's a different knitted goodie for the babe)
and for the knitting content...here we go...
I went to the knitting circle or what ever it's called last night!! (i'm so bad with names!) that was sooo fun! I of course didn't take any pix, being my first time and all I thought it may be weird...it was fun though! I met so many ladies it was great! one lady was knitting a pair of socks so we got a talking about them... you see i'm obsessed with socks.....not that I've knitted one yet...I've got about 3 inches on one started...but I've not finished yet... so we talked and i'm going to knit socks...well one of these days that is... i'm kinda scared of the heel... but my new friend assured me it was easy!
anyways while talking and soothing bella some I knitted on this....
it's for my friend tracey....she is moving in like a week....how sad! I am making it for her in her fav color purple and knitting it with thoughts and prayers for her! so everytime she wears it she will think of me and know that I love her and miss her soooo much! the hardest part of being a military family is you make great friends and then you have to move! or they move. but I know I will stay in touch with my friends I've made here in germany. I have to! they've been such a big part of my life and they are sooo dear and close to my heart! I love them!
ok enough before I get all weepy... I've gott go dye my roots!
happy knitting all
and have a wonderfully Happy Easter!
ps the title is because of my DH's watching of the steroids hearing (lets not get started on that!)and playing baseball on his new xbox.... it's all we're doing lately arugh!..well I've been knitting...LOL of course..