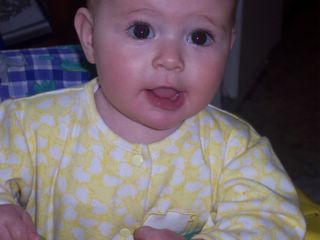 so bella makes the funniest faces sometime. it cracks me up so i took a pix of her talking back to us! it's pretty cute! she's such a sweetie! ok so today i finished the booties and i have 2 pix for you to look at...this first one is so that you can see how fuzzy they are. they are soft. i made them with a recycled yarn so it's really soft and bumpy.
this second pix is so you can see what they look like i'm pleased with how they turned out. i think though i may try knitting instead of making the bumpy part on the top of the foot. and i plan on making more in different colors they didn't take that long to knit up so they can be made in different colors very fast! i may make a black pair so she can wear them with anything!
so i have people coming over for a farewell party for my friend Kelly. SNIF....
gotta jet
TTYL
happy knitting