I was surfing the blog wave today and the
Knitty Professor
has been searching people's blog beginnings and found a book quiz and I thought I should take it... So here you go..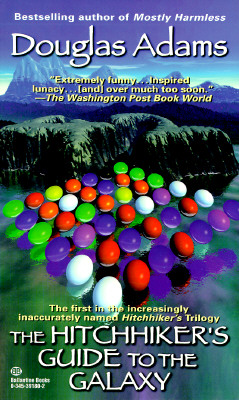 You're The Hitchhiker's Guide to the Galaxy!

by Douglas Adams

Considered by many to be one of the funniest people around, you are
quite an entertainer. You've also traveled to the far reaches of what you deem possible,
often confused and unsure of yourself. Life continues to jostle you around like a marble,
but it's shown you so much of the world that you don't care. Wacky adventures continue to
lie ahead. Your favorite number is 42.


Take the Book Quiz
at the Blue Pyramid.
it all sounds good except my fav number in the whole wide world is 13! it all started when in 9th grade I saw this hottie soccer player named Eric something or other... he was numero 13. I was going to join the girls soccer team that year but my friend thought we should go cheer.... so we went then bailed b/c it sucked! no offence to all you cheerleaders out there. then I moved. and I don't remember his last name he was that important to me... but i've always liked 13.... I even chose 13 for my own soccer # when I played in high school and college. now I don't play much anymore... i've been gifted with a tire around my waist and can't seem to loose it....though I try and try...hmmm. I still like the number 13 though....... anyways I've never actually read this book but since it's me I should go look it up sometime huh? and yes I know it's a movie now too. though it hasn't made it appearance here yet. also I highly doubt the library here has it... alas, I'm off to go to bed now.. until next time...