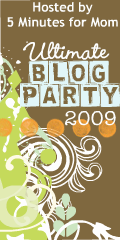 It's that time again. Time for the UBP!!!
i had so much fun last year browsing blogs and leaving comments. this year it's totally bigger. You can
check it out here.
I'm glad to meet everyone and I'll bounce back to the blogs of people that leave me a comment.
I'm on Facebook Here
.
I'm not a twitter person.
I'm not sure what twitter is but it's all the rage. feel free to clue me in
and there's a whole
bunch of prizes
! i'm not able to fathom it all. so may generous people and it's possible I may win something. I'm going to make a list of the prizes I would love to win.....
First of all I'd love to win #58
the Kitchen Aid!
In red i think.. I LOVE IT!
I think i'd also like to win
#49
b/c i love jillian michaels
also #20 the
goat milk soap
. we can always use a bit of pampering!
and who can pass up #21 th
e target gift
card?
#60 the
Pepsi tote filled with goodies
sounds like a great prize too.
there's sooo much more but i can't decide.
why not join the party and go look at the prizes for yourself?
feel free to look around and leave a comment or two.
thank you for stopping by.